As mortgage rates started to rise this year, many homeowners began to wonder if the value of their homes would fall. Here's the good news. Historically, when mortgage rates rise by a percentage point or more, home values continue to appreciate. The latest data on home prices seems to confirm that trend.
According to data from CoreLogic, home price appreciation has been re-accelerating since November. The graph below shows this increase in home price appreciation in green: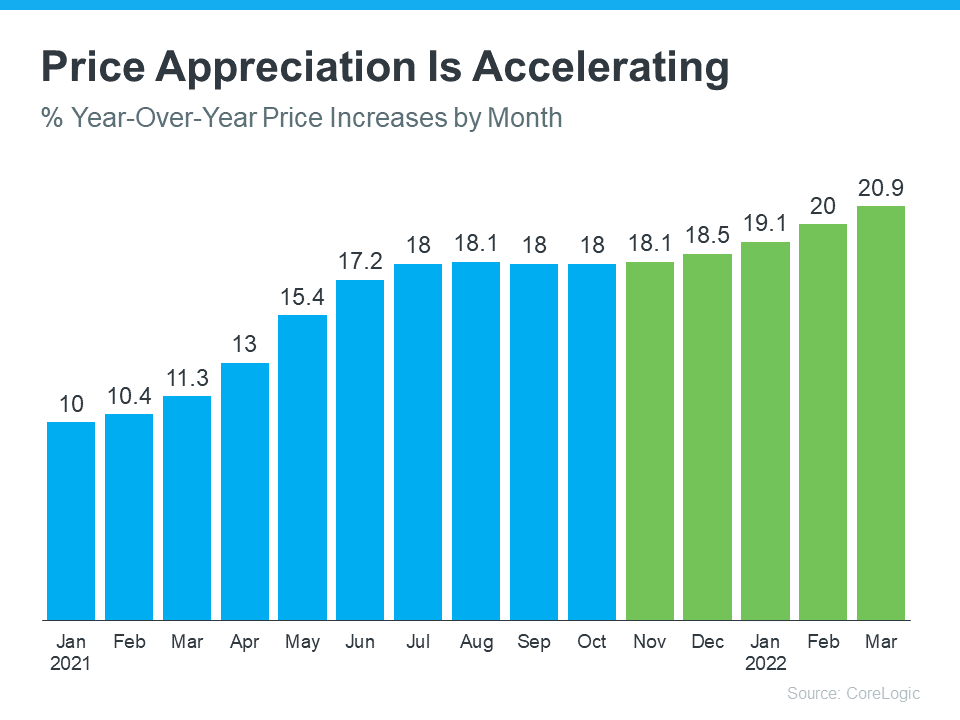 This is largely due to an ongoing imbalance in supply and demand. Specifically, housing supply is still low, and demand is high. As mortgage rates started to rise this year, many homebuyers rushed to make their purchases before those rates could climb higher. The increased competition drove home prices up even more. Selma Hepp, Deputy Chief Economist at CoreLogic, explains:
"Home price growth continued to gain speed in early spring, as eager buyers tried to get in front of the mortgage rate surge."
And experts say prices are forecast to continue appreciating, just at a more moderate pace moving forward. A recent article from Fortune says:
". . . the swift move up in mortgage rates . . . doesn't mean home prices are about to crash. In fact, every major real estate firm with a publicly released forecast model . . . still predicts home prices will climb further this year."
What This Means for You
If you're thinking about selling your house, you should know you have a great opportunity to list your home and capitalize on today's home price appreciation. As prices rise, so does the value of your home, which gives your equity a big boost.
When you sell, you can use that equity toward the purchase of your next home. And at today's record-level of appreciation, that equity may be enough to cover some (if not all) of your down payment.
Bottom Line
History shows rising mortgage rates have not had a negative impact on home prices. Now is still a great time to sell your house thanks to ongoing price appreciation. When you're ready to find out how much equity you have in your current home and what's happening with home prices in your local area, let's connect.
If you're thinking about buying a home, you've probably heard mortgage rates are rising and have wondered what that means for you. Since mortgage rates have increased over two percentage points this year, it's natural to think about how this will impact your homeownership plans.
Today, buyers are reacting in one of two ways: they're either making the decision to buy now before rates climb higher or they're waiting it out in hopes rates will fall. Let's look at some context that can help you understand why so many buyers are jumping off the fence and into action rather than waiting to buy.
A Look Back: How the Current Mortgage Rate Compares to Historical Data
One factor that could help you make your decision to buy now is how today's mortgage rates compare to historical data. While higher than the average 30-year fixed rate in recent years, the latest rates are still comparatively low when you look at the bigger picture of where rates have been since 1971 (see graph below):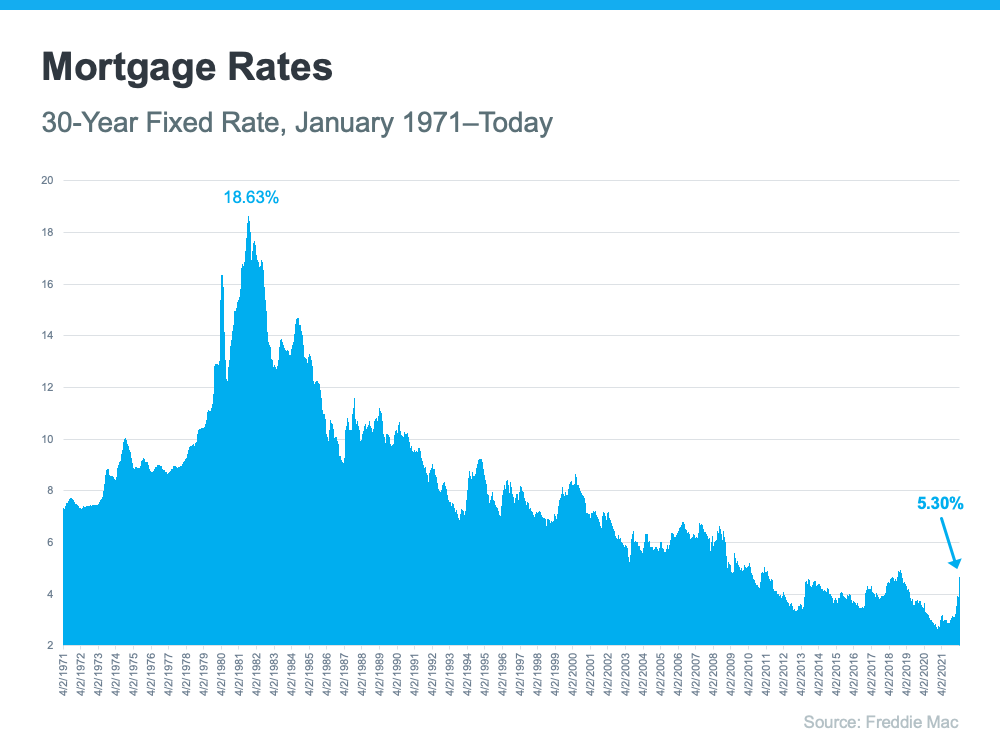 Mark Fleming, Chief Economist at First American, explains it like this:
". . . historical context is important. An average 30-year, fixed mortgage rate of 5.5 percent is still well below the historical average of nearly 8 percent."
If you're deciding whether to buy now or wait, this is important context to have. Today's mortgage rate still gives you a window of opportunity to lock in a rate that's comparatively lower than decades past.
A Look Ahead: What Happens if Rates Climb Further
The buyers who are springing into action now are also motivated to make their move because they know rates have risen steadily this year, and they're eager to get ahead of any further increases.
Why? When mortgage rates climb, they impact the monthly mortgage payment you'll have on the home you're buying. Basically, it'll likely cost you more to buy a home if you wait. Experts say mortgage rates will rise (although more moderately) in the months ahead. Odeta Kushi, Deputy Chief Economist at First American, explains:
". . . ongoing inflationary pressure remains likely to push mortgage rates even higher in the months to come."
So, if you're ready and financially able to buy now, it may make more sense to get off the fence and make your purchase sooner rather than later. As Nadia Evangelou, Senior Economist at the National Association of Realtors (NAR), says:
"With even higher interest rates on the horizon, I don't see any reason to hold off from purchasing a home right now. If you feel financially secure, you should start looking for a home."
At the end of the day, there is no perfect advice on when to buy a home. What you should do depends on your goals, your finances, and your personal situation. Use this information with the help of local real estate professionals to make an informed decision on what's best for you. The Mortgage Reports sums it up best:
". . . if you're on the fence about whether to buy now or wait for a better deal, buying sooner rather than later might be wise. That said, home buying is always a personal decision. Whether you should buy in 2022 depends on your financial situation and the local housing market where you live."
Bottom Line
For many buyers, rising mortgage rates are motivating them to act now and make a purchase before rates rise higher. To decide what move is best for you, let's connect so you have expert advice on your side.
58 Berkshire Wood | Cypress Village
Stunning Mulberry Plan 3 situated in one of Irvine's most prestigious communities, Cypress Village. The home is quietly tucked away within the immaculately maintained neighborhood just a short walk to the pool. You are greeted by two-story ceilings and a grand wood staircase immediately after stepping through the front door. The layout of the first floor feels open while still providing separation for privacy and organization. The kitchen offers an abundance of storage with floor-to-ceiling cabinetry and a walk-in pantry. While enjoying the kitchen it is easy to stay connected to the conversation between the dining and living spaces. Three sides of the dining room and along the kitchen have windows nearly spanning floor to ceiling along with sliding and French doors to enjoy the backyard. Travertine tile spans the length of the backyard leading to the separate room that serves nicely as an office, schoolroom, or gym. Four bedrooms can be found on the second floor with the fifth bedroom on the first floor secluded from the main living space. The right-wing upstairs includes the laundry room, two large bedrooms joined by a Jack-and-Jill bathroom, and another bedroom with an ensuite bathroom. You'll find the master bedroom spans most of the upstairs appointed with two walk-in closets, spa tub, oversized shower, and separate dual vanities.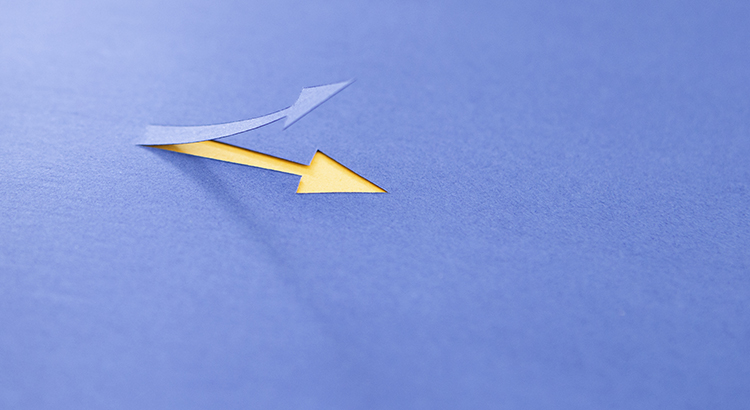 If you're following along with the news today, you're probably hearing a lot about record-breaking home prices, rising consumer costs, supply chain constraints, and more. And if you're thinking about purchasing a home this year, all of these inflationary concerns are likely making you wonder if you should wait to buy. Investopedia explains that during a period of high inflation, prices rise across the board. And while home prices aren't immune from this increase, here's why inflation shouldn't stop you from buying a home in 2022.
Homeownership Offers Stability and Security
Home prices have been increasing for quite some time, and experts say they're going to continue to climb throughout 2022. So, as a buyer, how can you protect yourself from rising costs for things like food, shelter, entertainment, and other goods and services? The answer lies in housing.
Buying a home allows you to lock in your monthly mortgage payment for the foreseeable future. That means as other prices rise, your monthly payment will be consistent thanks to your fixed-rate mortgage. This gives you the peace of mind that the bulk of your housing costs is shielded from inflation.
James Royal, Senior Wealth Management Reporter at Bankrate, says:
"A fixed-rate mortgage allows you to maintain the biggest portion of housing expenses at the same payment. Sure, property taxes will rise and other expenses may creep up, but your monthly housing payment remains the same."
If you rent, you don't have that same benefit and you won't be protected from rising housing costs. As an added incentive to buy, consider that today's mortgage interest rates are lower than they have been in decades. While inflation decreases what your dollars can buy, low mortgage rates help counteract it by boosting your purchasing power so you can get more home for your money. They also help keep your monthly payments down. This is especially important during an inflationary period because you'll want to protect yourself from the impact of inflation as much as possible.
Ali Wolf, Chief Economist at Zonda, explains:
"If you have cash and are expecting inflation, you want to think through where you can put your money so it does not lose value. Housing is commonly looked at as a good inflation hedge, especially with interest rates so low."
Bottom Line
The best hedge against inflation is a fixed housing cost. That's why you shouldn't let it stop you from buying a home this year. Not sure where to start? Let's connect so you have expert advice and help throughout every step of the homebuying process.
Today were talking about how important it is to hire a professional Realtor or Broker and a few of the qualities they should have.
Today, were talking about Appraisals
Today we are talking about Zestimates and Redstimates. How accurate are these home valuations?
There is a lot of misinformation out there when it comes to your home valuation estimates. One of my favorite articles can be found here discussing how the former CEO of Zillow listed his home for $8,000,000 more than the Zestimate provided by Zillow. Take a look at espisode 2 below to get some more insight then reach out to us with any additional questions or to get a proper valuation of your own.
What were Doing at Mint Real Estate
---
We built Mint Real Estate in the middle of 2020 during the Pandemic and to say we have put our blood sweat and tears into it would be an understatement. We had a vision of hiring/training the best agents in the industry to approach the buying and selling experience with their client from an investment and education standpoint. Having done countless consultations and education calls with buyers and sellers over the last 12 years we found two trending paint points.
1. People consistently felt that transparency was lacking in the industry with all of the online marketing and search platforms. Our solution to that was www.mymintrealestate.com where we make sure agents aren't pretending to be listing agents on home they are not and no one is selling your data.
2. The lack of simple education on every nuance in the buying and selling process is infuriating. People are busy and don't have time to absorb all of the webinars, long winded videos, and agents using acronyms without explanation.
Problem number
is now being solved with our 1 minute educational videos we have produced and will post every Monday! Our goal is to educate and empower everyday people to make confidently make decisions in our fast moving real estate market. Your shares, comments, and love will help spread the wealth as we do our best to educate. You can find each video on Instagram @mintrealestateinc or on our Facebook page.
Take a look at our first episode below
Do You Have Enough Money Saved for a Down Payment?
One of the biggest misconceptions for first-time homebuyers is how much you'll need to save for a down payment. Contrary to popular belief, you don't always have to put 20% down to buy a house. Here's how it breaks down.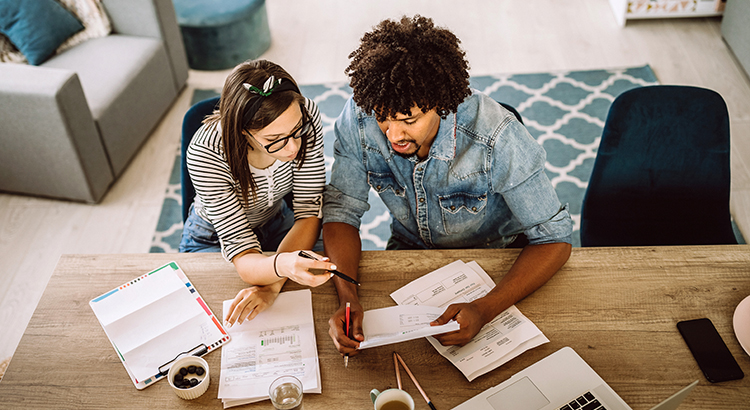 A recent survey by Point2Homes mentions that 74% of millennials (ages 25-40) say they're interested in purchasing a home over the next 12 months. The study notes, "88% say they have significantly less savings than the average national down payment amount, which is $62,600."
Thankfully, $62,600 is not the amount every buyer needs for a down payment in the United States. There are many different options available, especially for first-time homebuyers (millennial or not). That amount can also be significantly less, depending on the purchase price of the house.
According to the National Association of Realtors (NAR), "The median existing-home price for all housing types in August was $310,600." (These are the latest numbers available). NAR also indicates that:
"In 2019, the median down payment was 12 percent for all buyers, six percent for first-time buyers, and 16 percent for repeat buyers." (See graph below):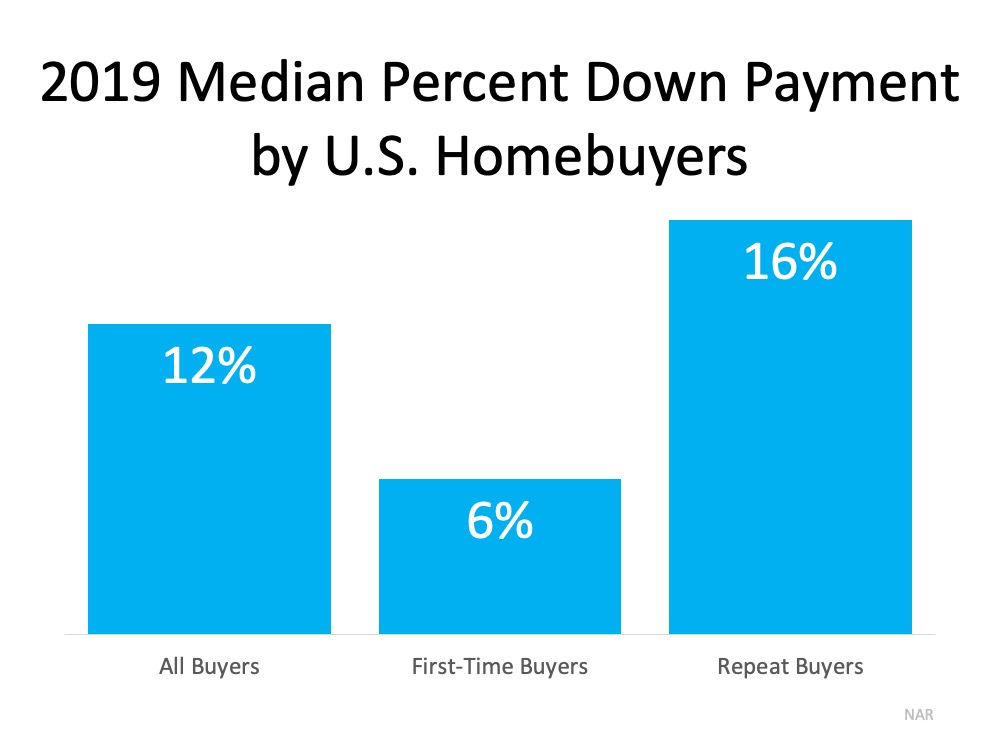 That means if a qualified first-time buyer purchases a home at today's median price, $310,600, with a 6% down payment, in reality, the down payment only amounts to $18,636. That's nowhere near $62,600.
Knowing there are also programs like FHA where the down payment can be as low as 3.5% of the purchase price for a first-time buyer, that up-front cost could be significantly less – as little as $10,871 for the same home noted above. There are also other programs like USDA and loans for Veterans that waive down payment requirements.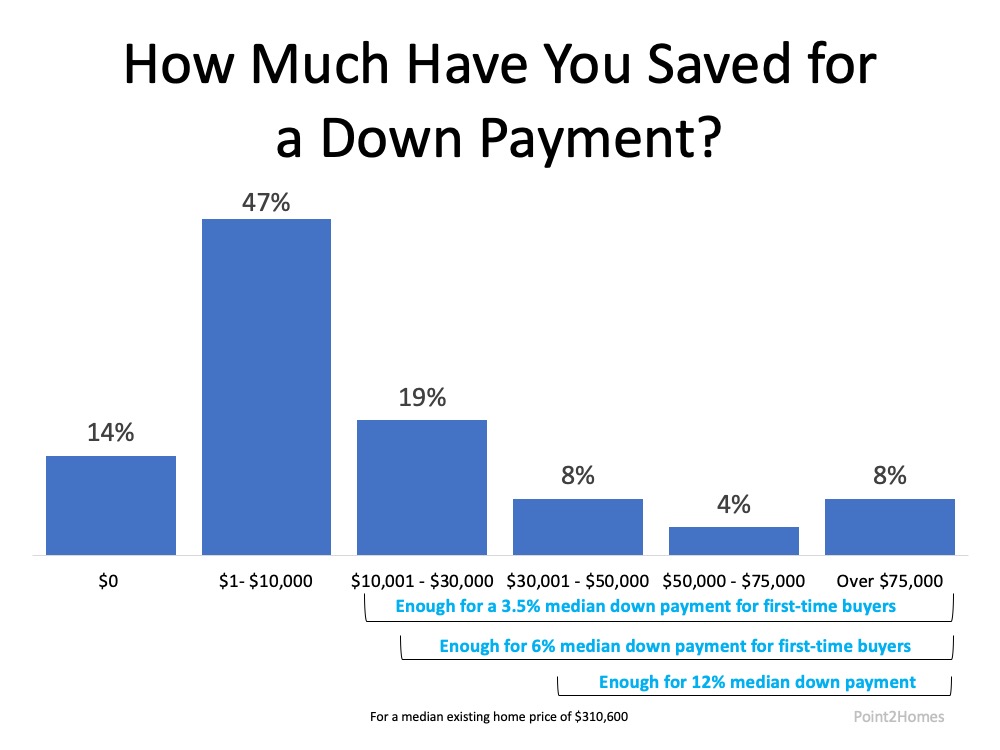 The Point2Homes study also shares how much millennials have indicated they've saved for a down payment. As we can see in the graph below, 39% have already saved enough for a down payment on a median-priced home. Another 47% are close to reaching that goal, depending on the purchase price of the home.Unfortunately, the lack of knowledge about the homebuying process is keeping many motivated first-time buyers on the sidelines. That's why it's important to contact a local real estate professional to understand the requirements in your local area if you want to buy a home. A trusted agent and your lender can guide you through the process.
Bottom Line
Be careful not to let big myths about homebuying keep you and your family out of the housing market. Let's connect to discuss your options today.
The #1 Reason Not to Wait to List Your House for Sale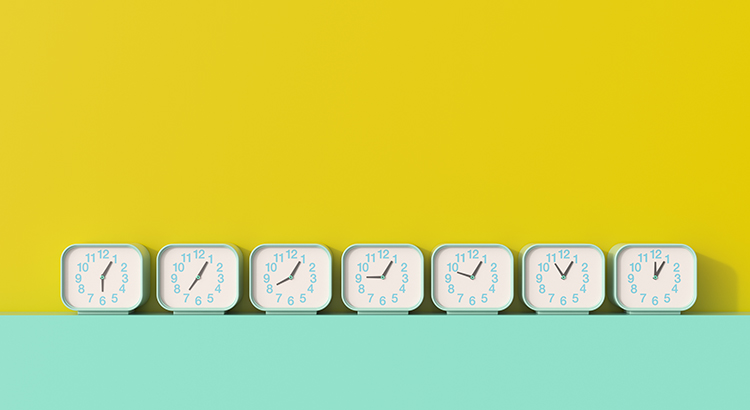 Many industries have been devastated by the economic shutdown caused by the COVID-19 virus. Real estate is not one of them.
Mark Fleming, Chief Economist for First American, just reported:
"Since hitting a low point during the initial stages of the pandemic, the only major industry to display immunity to the economic impacts of the coronavirus is the housing market. Housing has experienced a strong V-shaped recovery and is now exceeding pre-pandemic levels."
Buyer demand is still strong heading into the fall. ShowingTime, which tracks the average number of buyer showings on residential properties, just announced that buyer showings are up 61.9% compared to the same time last year. They went on to say:
"Normally, real estate activity begins to slow down in the late summer, but this year it peaked in July, August and into September."
There Is One Big Challenge
Purchaser demand is so high, the market is running out of available homes for sale. Just last week, realtor.com reported:
"Since the beginning of the COVID pandemic in March, nearly 400,000 fewer homes have been listed compared to last year, leaving a gaping hole in the U.S. housing inventory."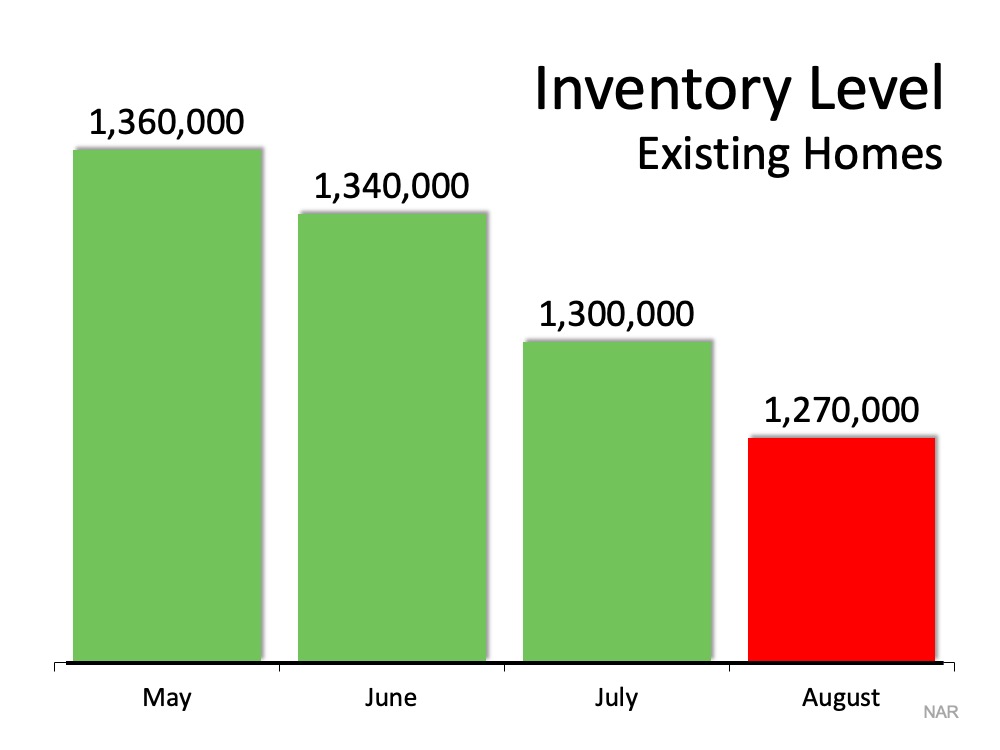 The National Association of Realtors (NAR) revealed that, while home sales are skyrocketing, the inventory of existing homes for sale is dropping dramatically. Below is a graph of existing inventory (September numbers are not yet available):Homebuilders are increasing construction, but they cannot keep up with the high demand. Bill McBride, founder of the Calculated Risk blog, in discussing inventory of newly constructed houses, notes:
"The months of supply decreased to 3.3 months…This is the all-time record low months of supply."
What does this mean for sellers?
Anyone thinking of putting their home on the market should not wait. A seller will always negotiate the best deal when demand is high and supply is limited. That's exactly the situation in the real estate market today.
Next year, when the pandemic is hopefully behind us, there will be many more properties coming to the market. Don't wait for that increase in competition in your neighborhood. Now is the time to sell.
Bottom Line
Let's connect today to get your house on the market at this optimal time to sell.